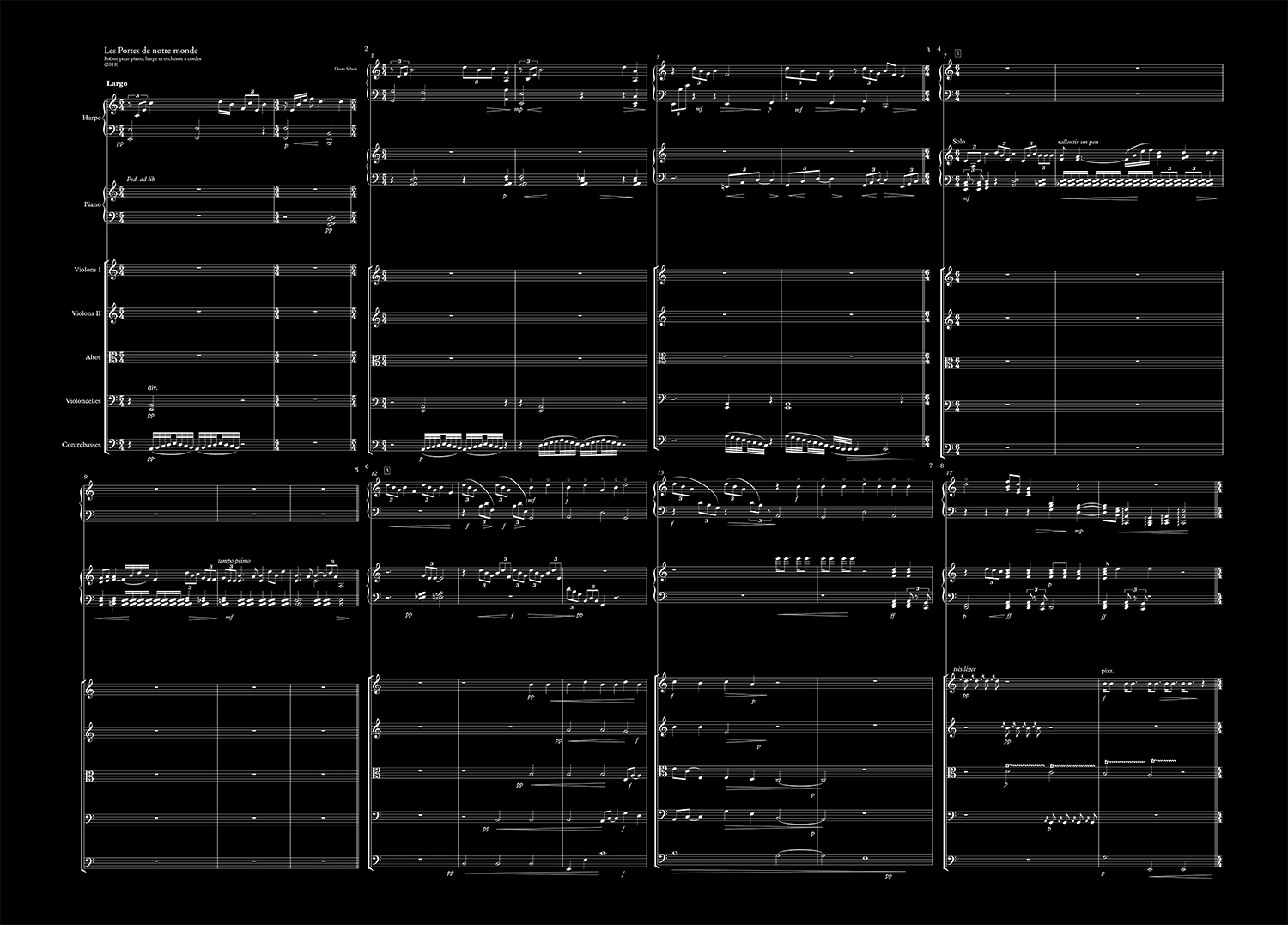 Les Portes de Notre Monde, Tone poem for harp, piano and string orchestra – an illustration in music of the poem of the same name.
XII. The doors of our world (for Aoi)
Discussions about our respective families
She is as invasive as her objects
Sitting at the table from another continent
We drink tea
It is now time to leave for the forest
The consumerist society is tumbling down
So we return to our customs ancestral
A tree with mushrooms-espalier hard as marble
A Formicidae house and ferns in blanket
As the crickets cry
You thought we were lost but I remember the south
Homes in the valley, the four stones, the table
Abducted
Cursed paper birch pollarded
Aphodius fossor
Your old friend has walked through centuries
And follows you everywhere at his own rhythm
The cat just as Egyptian as him
And the ghost you believed you saw
My inner compass
I promise, the forest is not moving
But trees know how to disguise
You hold their souls
Printed on paper vegetal
I promise I know the way out
And though I wanted to stay
The staircase-branches
The white horses, the black stallion
Coiffed masked in gauze
At the doors of your world
The meadow wild stock wild child
Flowers
As I wanted to caress the bees
Ex-flower
Umbelliferae mysteriae…
And now trembling in fever on the train
You write these lines while
Returning to our modern world
That secretly you abhor
And your black waxed boots don't hold a trace
Of mud, don't hold a trace of your forest
Have you only been there? Her secret name
You know, the souvenirs are fading
But not her name, her world, her secret
Clandestine
That which does not exist shall be invented
This world subsists in another reality
And her name rhymes with night and mercy
And the train proceeds at the pace of the scarabeus.
– french version/mirror :
XII. Les portes de notre monde (pour Aoi)
Discussions sur nos familles respectives :
Elle est aussi envahissante que ses objets
À la table d'un autre continent nous prenons le thé
Il est temps de partir en forêt
L'effondrement de la société de consommation
Nous fait revenir aux pratiques ancestrales
Un arbre aux champignons-espalier dur comme du marbre
L'habitat des Formicidae et des fougères en nappe
Comme mer les cris des grillons
Tu nous croyais perdues mais je me souviens du sud
Les maisons dans la vallée, les quatre pierres, la table
Enlevée
Bouleaux à papier maudits étêtés
Le scarabée fossoyeur
Ton vieil ami a traversé les siècles
Et te suis partout à son rythme
Le chat tout aussi égyptien
Et le fantôme que tu crois voir
Ma boussole interne
Je te promets, la forêt de bouge pas
Mais les arbres se déguisent
Tu gardes leurs âmes
Imprimées sur papier végétal
Je te promets je connais la sortie
Et même si je souhaite y rester
Les branches-escalier
Les chevaux blancs, l'étalon noir
Coiffé de son masque de gaze
À la porte de ton monde
Le pré des sauvages sauvageonnes
Fleurs
Toi qui voulais caresser les abeilles
Effleure
Ombellifères et mystères…
Et maintenant : prise de fièvre dans le train
Tu notes ces lignes tandis
Que tu reviens à ce monde moderne
Que secrètement tu abhorres
Et tes bottes noires cirées ne portent aucune trace
De boue, ne portent aucune trace de ta forêt
Y es-tu seulement allé ? Son nom secret
Tu le connais, les souvenirs s'effacent
Mais pas son nom, son monde, son secret
Clandestine
Ce qui n'existe pas reste à inventer
Ce monde subsiste dans une autre réalité
Son nom rime avec nuit et merci
Et le train processionnaire a la vitesse du scarabée.