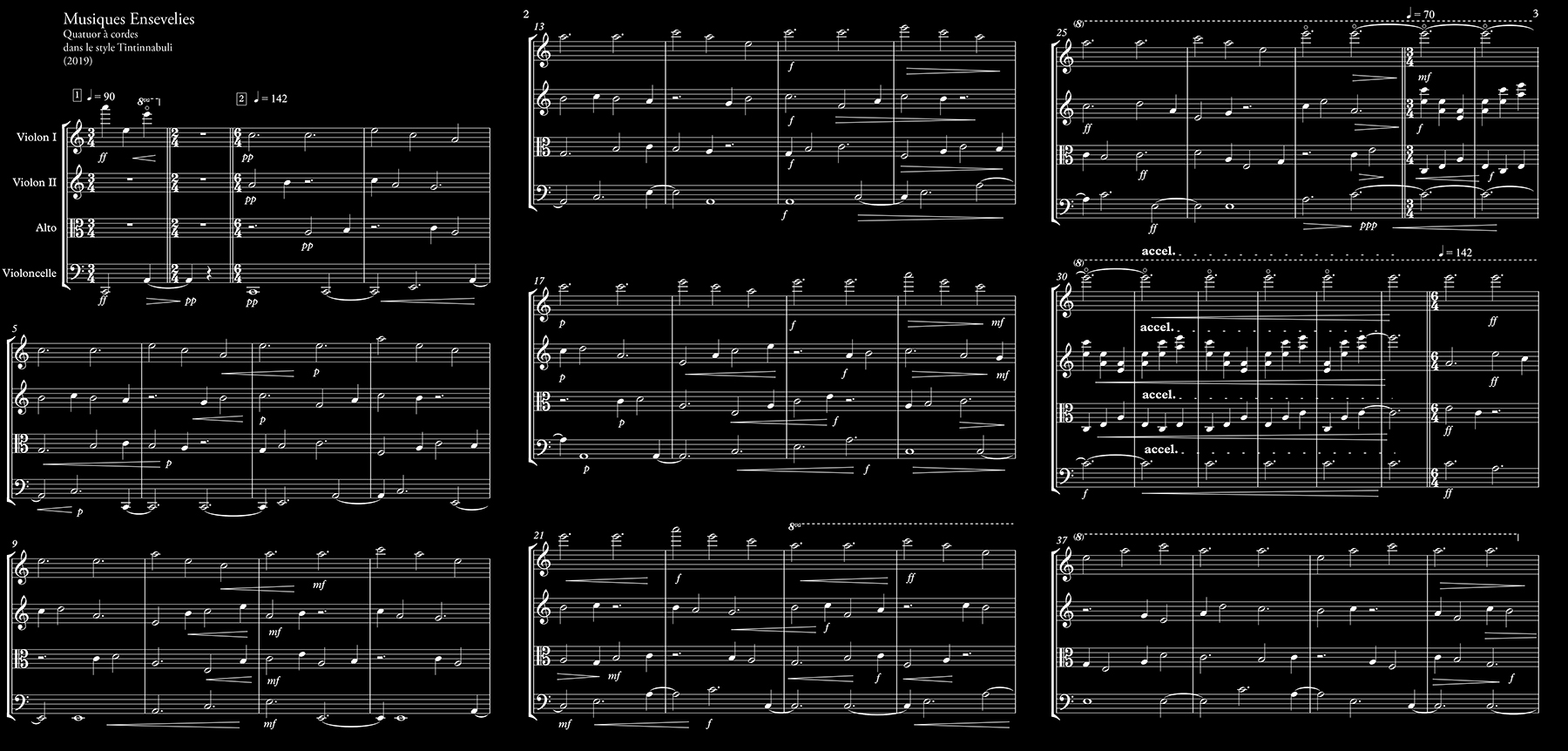 A string quartet written in the Tintinnabuli style, a tribute to Arvo Pärt's invention and a part of my music diploma. It is also an illustration of the poem of the same name.
You can read the dissertation on Arvo Pärt's work (in french)
here >>  http://lemondeautre.fr/wp-content/uploads/2019/05/Me%CC%81moire_CEM_SCHUH_Diane_corrige%CC%81.pdf
Don't hesitate to contact me if you see any errors or things to discuss. Arvo Pärt's music is fascinating and I am always all ears to learn more!
Musiques ensevelies est un quatuor à cordes composé en hommage à la technique tintinnabuli d'Arvo Pärt. Cette partition est l'illustration musicale du poème du même nom.
Voici également, en français, un mémoire à propos de la technique de composition d'Arvo Pärt:
ici >>  http://lemondeautre.fr/wp-content/uploads/2019/05/Me%CC%81moire_CEM_SCHUH_Diane_corrige%CC%81.pdf
N'hésitez pas à m'envoyer vos remarques et suggestions par rapport à ce travail!
I. Buried music
A piece of paper
Buried in your childhood's garden
I'd prefer to write it with a pencil
I would prefer the words to be erasable
The garden where your favourite trees are waiting
There you interred the music
You wrote in one breath
The drawing you've made for her
Animals merging together
The drawing stained from your sweat
Stained with your hands
Folded until the end
And given to the messenger
You thought he was a stranger!
Ten years ago
In the heat of the lake
You slept in a tent
While the swan and the moon made their last dance
Passing the border
Such a strange feeling
This sense of danger
We will never have to relive it
We will never have to relive it.
I know where it lies
I remember the child's hands
Thinking of her mind and geniuses
And the notes you wrote
On the chequered paper
You would have preferred to write them
With a feather.
I. Musiques ensevelies
Un morceau de papier
Enfoui dans le jardin de ton enfance
Je préfère écrire au crayon
J'aime mieux que les mots puissent s'effacer
Le jardin où ton arbre chéri t'attend
Là tu enterras la musique
Celle que tu écrivis d'une traite
Et le dessin que tu avais fait pour elle
Animaux mélangés d'un trait
Le dessin tâché de ta sueur
Tâché de tes mains
Pliées jusqu'à la fin
Tu le donnas au messager
Que tu croyais inconnu !
Il y a dix ans
Dans la chaleur du lac
Tu t'endormis sous la tente
Pendant que le cygne et la lune effectuaient leur dernière danse
Passer la frontière
Un étrange sentiment
Impression de danger
Que nous n'aurons plus à revivre
Que nous n'aurons plus à revivre.
Je sais où il se cache
Je me souviens des mains d'enfant
Elle pensait à son esprit et aux génies
Et les notes que tu écrivis
Sur le papier quadrillé
Tu aurais préféré les inscrire
À la plume.